The Empath and the Soldier
Guest Post
Thanks for the opportunity to talk a little about my new book. In this post, I'd like to discuss one of the central themes of The Empath and the Soldier and where it originated.
Growing up, I was obsessed with the movie Stand by Me. As a lonely tween and adolescent, I longed, almost ached, for the kind of friendship shared by the four main characters. In the middle of my fourth-grade year, my dad had moved us from Indiana, where I had multiple close friends, to Colorado, where I had none. For some reason I had quite a bit of trouble making new friends in our new home, and for many years I was a lonely, reclusive kid who spent hours either reading or creating imaginary worlds. So the camaraderie between the four boys in the movie was a glimpse into a world I felt I was missing out on.
Actually, looking back, I can guess why making friends was so difficult for me. I think even my pre-pubescent self knew that I was different from other boys. And it wasn't just that I didn't care much for sports and loved musical theater. Deep down, I knew that somehow my feelings for other boys were different than what they felt for me. I also knew that these feelings would be considered grotesque by other kids my age. I kept my distance from everyone else in order to keep them from finding out who I really was and because I didn't think they'd like me anyway. Who wants to be around a gay kid who'd rather watch The Sound of Music than a football game?
In junior high and high school, I did hang out with people, but I never really was myself with them. It was more like I was playing the part of a typically straight, male teenager. With other boys, I pretended to like girls and be interested in "typical boy stuff." But I wasn't very good at this pretense, so I mostly kept quiet, earning a reputation as the tall, quiet guy who was maybe a little boring, but at least harmless.
I felt much more comfortable with my female friends. At least with them I didn't have to feign excitement for things that were of no interest to me. But still, I held some part of me back. I was certain even they would think less of me if they knew who I truly was.
It wasn't until my senior year of high school and into college that I finally began to make friends with whom I felt I really belonged. People who I somehow knew would accept all of me, not just a filtered version. Eventually, I came out to these friends and my instincts were proved correct; they didn't think any less or any different of me.
It would be impossible to adequately describe the absolute elation and contentment I felt after finding a group of friends that fit me. I finally had a crew, a squad, that I could count on, and who counted on me. I finally had what the kids in Stand by Me had. These friendships would become the benchmark against which I would measure all future friendships. I won't call anyone a real friend until I reach the same level of comfort with them that I felt with my first group of close friends.
Finally finding "my people" in high school was such a significant point in my life, that I made it one of the central themes in The Empath and the Soldier. In the book we see the main character, Tyrran, really start to blossom as a person after finally finding a group of people with whom he feels he can relate. It's through them that he learns self-confidence and gains self-esteem because they value him for who he is.
When I tell people about books that inspired my novel, I usually mention other fantasy books like Lord of the Rings or even the novels of Jane Austen, upon which the book's setting is modeled. But I often forget to mention that, outside all the fantastical elements and the Bridgerton-esque backdrop, this novel is really about friendship, inspired by books and movies like Stand by Me, but also by my own experiences. One core message I hope readers take away from The Empath and the Soldier is that there's a group out there for everyone, and if you're at a particularly lonely or friendless point in life, know that you can and will eventually find people that fit you. It may take some time, but they're out there.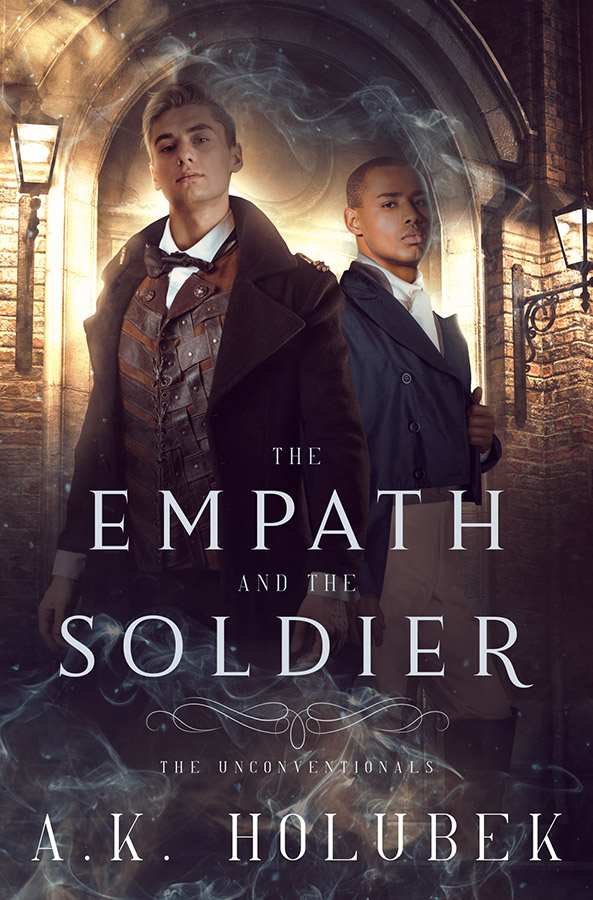 A.K. Holubek has a new MM Regency period fantasy book out, The Unconventionals book 1: The Empath and the Soldier. And there's a giveaway.
The situation seemed hopeless. But Tyrran couldn't pretend to be ignorant of the danger and just wait for his home to disintegrate around him.
As a Favored male, Tyrran belongs to a select group of men born with one of the Four Gifts, a blessing usually reserved for women. Quiet, introverted, and filled with self-doubt, Tyrran has always struggled with living up to the responsibilities that come with being Gifted. Still, he had managed to achieve the near impossible — admission to the prestigious Lyceum Institute in Corvit, the Coarian Sovereignty's bustling capital city. With this success, Tyrran's future seems clear: the best education, a position in a Temple, and, one day, marriage to a young man of good fortune.
That is, until sinister forces intervene to shove him down a much bleaker path. Tyrran's plans are thrown into upheaval when a deadly attack reveals the existence of an insidious evil festering within the ranks of the Sovereignty's elite.
Now, he must use the privileges afforded him as a Lyceum student to uncover the secrets of a corrupt government. Targeted by relentless assassins and trying to ignore his growing attachment to the handsome exchange student Adwin, Tyrran must gather trustworthy allies to face the dangers that threaten to tear apart his nation and his home.
Bridgerton meets The Magicians in this fantasy novel about the importance of confidence and the strength of friendship.
---
Giveaway
A.K. is giving away a $20 Amazon gift card with this tour:
a Rafflecopter giveawayhttps://widget-prime.rafflecopter.com/launch.js
Direct Link: http://www.rafflecopter.com/rafl/display/b60e8d47280/
---
Excerpt
At that moment they stopped suddenly, startled by someone crawling out of the pond almost directly in front of them. The someone turned out to be a man—an East Silacian, Tyrran noted right away, due to his black skin. He was shirtless, wearing only white tights, and he looked about Tyrran's age. He was shorter than Tyrran and his chest, stomach, and arms were muscular—sculpted was the more appropriate term, his skin stretched tight over every muscle. His physique was compact rather than large, he had deep brown eyes, and his black hair was cut close to his head.
Tyrran had always suspected that the Silacian reputation for beauty was exaggerated, stemming from the inferiority complex Coarians held towards Silacians, whose empire was much larger, wealthier, and more advanced than the Sovereignty. But if Nyri and this man were any indication, then their reputed good looks were understated if anything.
"Good morning, soldier," the man said, addressing Lena as he wiped water from his face with his hands. He spoke the Common Tongue with a sophisticated accent that sounded very similar to Nyri's.
"Good morning, Adwin," Lena replied, looking puzzled. "Did you, uh, fall in the pond?"
"Not at all. I was just going for a morning swim." He smiled as if it was the most natural thing in the world.
"In public? In the middle of campus?"
"But of course. This appears to be the closest body of water to our college. However, by your expressions, I assume Coarian notions of decorum discourage public bathing. I did swim wearing my tights, since I know public nudity is frowned upon."
He may as well have removed them, for what little use they were in covering his nudity. The material clung to his skin, revealing bulging leg muscles as well as other bulges that Tyrran was making a concerted effort not to stare at.
"We do tend to prefer bathing in secluded areas," Lena said. "Spaces set aside for bathing. Like the bathhouse next to the Barracks House, for instance."
"I did try the bathhouse, but the water is heated. Quite uncomfortable on a warm day like today. Do you suppose I shall be sent packing back to Silacia for this breach of conduct?" An impudent grin spread across his face.
"It's early enough that I'm sure no one but us has seen you. Though I do suggest you put the rest of your clothes back on soon. Where are they, by the by?"
"My clothes? I left them further down the trail. In truth, I was swimming about the pond for exercise rather than for bathing, then I saw the two of you and thought to come greet you. And now I think I have finished with swimming. Would you mind accompanying me to fetch my clothes?"
Tyrran could see that Lena was annoyed by the request and had every intention of replying in the negative. But Tyrran didn't want Adwin to be offended, so he quickly spoke up.
"We would be happy to."
That earned him an evil look from Lena.
Adwin offered his arm to Tyrran. "Adwin Mekalbe, at your service."
Tyrran grasped his forearm, "Tyrran Kens, at yours," he replied, trying to keep his voice from squeaking.
"I assume you do not attend the Military College," Adwin continued, as the three of them resumed walking along the trail.
"No, I'm at Roothe College. Lena and I are friends from Temple Academy."
"Ah, yes. In Hifield City. I am truly sorry about the attacks. I do hope you were not directly affected."
---
Author Bio
The moment A.K. Holubek stumbled across a ragged copy of The Fellowship of the Ring in his elementary school library, his life changed forever. The rest of his childhood, his adolescence, and even his college years were spent living only part time in the real world. He much preferred spending time in the fantasy lands of his imagination than in the reality of life as a closeted gay kid. As real life got better, he left his fantasy worlds behind. But a few years ago, those worlds called him to return, and to share his created worlds with others who might also need a place to escape. He now endeavors to carry out this mission from his home in Baltimore, supported by his husband and two ridiculous cats.
Author Website: http://theunconventionals.com
Author Facebook (Personal): https://www.facebook.com/andrew.holubeck
Author Facebook (Author Page): https://www.facebook.com/akholubek
Author Instagram: https://www.instagram.com/theunconventionalsbooks/